---
---
Craf-'TEA' Break
noun [cr,ah, fu - Tee, brae, k]
A craft or crafty pursuit that can be completed in one sitting of tea drinking.
Example - "Today I took a Craf-'TEA Break and made..."
---
---
As soon as I saw the plastic hoop and bright bells in this months Crafty Creatives box I knew exactly what I wanted to make with them! It turned out to be a
bit
of a bigger project than I expected (it's probably a 3-4 tea breaks project due to wrapping and gluing of the hoop)
Items used:
Plastic hoop
(from Crafty Creatives Box 5)
Jingle Bells
(from Crafty Creatives Box 5 and I have some very similar ones in the shop)
Jute string
Embroidery floss
Fabritac glue
PVA glue
Burgundy gingham ribbon
Burgundy bow
I started off by attaching the embroidery floss to the hoop with, I then threaded 3 bells onto it and wrapped it around the opposite side of the hoop, added 3 more bells and trimmed and glued the end of the floss to the hoop.
I glued the bells into place on the floss(...in hindsight I should have waited until I wrapped the wreath with the string as the bells really got in the way for this bit) and the started to wrap the hoop with string - this took quite a while but I was determined to make sure it stayed tight and neat the whole way around!
To finish the wreath off I added a loop of ribbon and a little bow to the front, I was desperately searching for a bright ribbon and bow to use to match the bells but had to settle for my standard burgundy and beige colour scheme. These would look adorable with gold bells with the cream and burgundy colour scheme.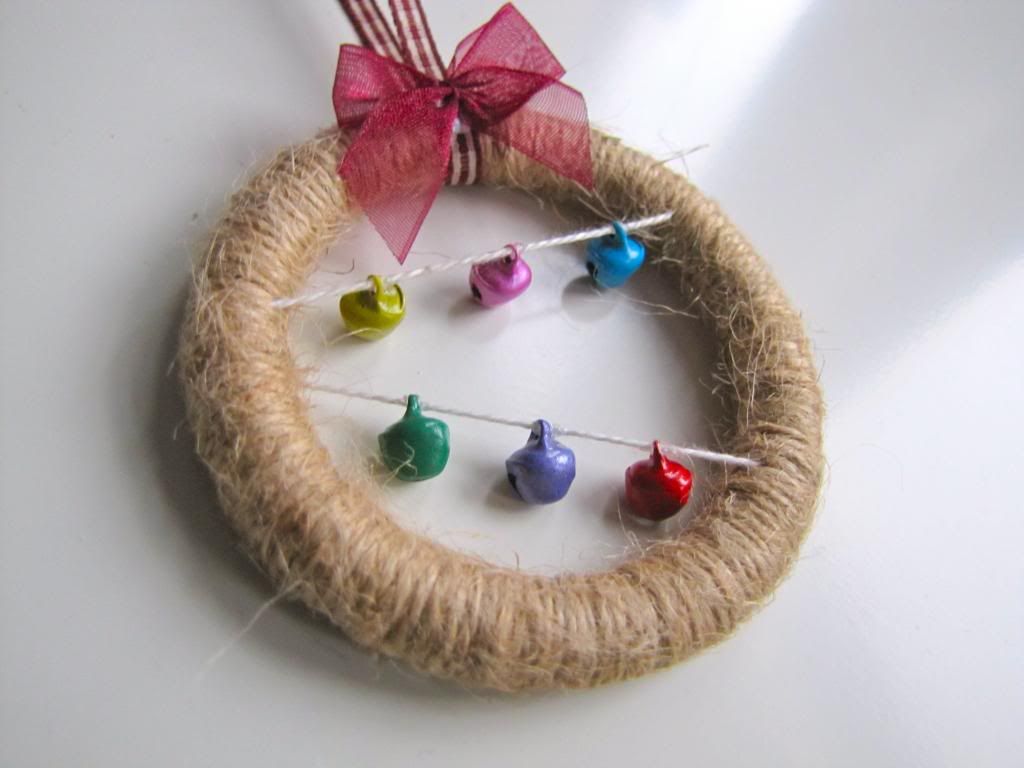 I'm really pleased with the way it turned out and think I might add these to my list of items to make for next year too.